Former Clinton Valley Board Member Adam Avery, Ph.D, complete a scientific study involving Paint Creek in 2011.  His study was funded by CVTU and gave us a great understanding of the flow and temperature data from the best trout fishery in our watershed.  Along the way Adam received volunteer help from two chapter members (Mark Johnston and Mark Tracey) and from former CRWC employee Jeremy Giest.
To help us understand more about this Flow and Thermal Regime Study Adam has provided us with the following information…
______________________________________________________________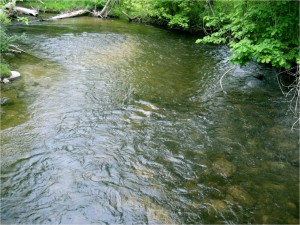 The goal of this project is to develop of a greater understanding of the flow and thermal regimes of Paint Creek during the summer months in order to support ecologically-based stream management practices.  Paint Creek is the premier coldwater fishery in Southeast Michigan.  Yet it faces ecological threats due to continuing urbanization within the watershed and long-standing human alterations of the stream and watershed.  A flow regime describes aspects of stream discharge including magnitude, frequency, duration, timing and rate of change discharge events.  A thermal regime of a stream describes similar characteristics pertaining to stream temperature.  The thermal regime is intertwined with the flow regime, and it has become increasingly clear that ecologically based stream management should consider both flow and thermal regime data.   We have chosen to focus on warm summer months for this study due to management of this stream as a coldwater fishery.
Some of the specific goals of the study:
– To characterize longitudinally (from Paint Creek source, Lake Orion dam, to confluence with Clinton River, flow and temperature dynamics during steady base flow and in response to precipitation events.
– To understand how the magnitude and temperature of Lake Orion dam discharge influence downstream Paint Creek discharge and temperature.
– To mathematically describe the relationship of stream discharge and temperature at different locations along Paint Creek.
– To identify locations of major stormwater input.
– To survey water temperature of Paint Creek tributaries.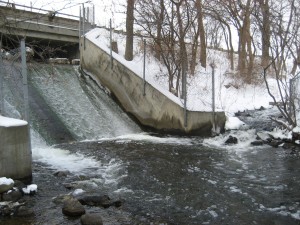 Lake Orion dam.  Left  side of picture shows dam structure with lake surface water flowing over top of dam.  Right side of picture shows discharge from bottom draw pipe mixing with water at base of dam.  During the summer, the bottom draw discharge cools lake surface water flowing over top of the dam.