The Clinton Valley Chapter hosted our first Youth Fly Fishing Program in about 10 years in 2019. It was a great event and we hosted about 10 children that day.
In an effort to help foster enthusiasm for the sport of fly fishing with our local youth, our chapter is working on a great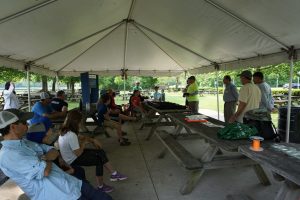 half day program for some students that participate in our 12 sponsored Salmon in the Classroom programs.  During this new program students will participate in the following fly fishing related classes:
Rod set-up & rigging
Basic fly rod casting
Aquatic insects & fly selection
Fish species & where to catch them
Tying a woolly bugger
To make this class even more memorable for our participants the Clinton Valley Chapter hopes to be able to provided all students with a new Orvis Encounter or similar brand fly rod/reel package!
Due to COVID-19 restrictions in schools in 2020/2021 school year most salmon in the classroom sets up's didn't operate, but the CVTU Board of Directors wanted to keep this even going.