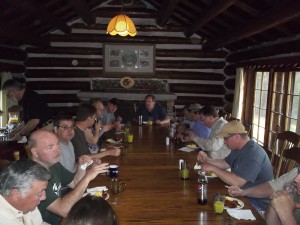 Each year the Clinton Valley Chapter's Events Committee works hard to provide our members with outstanding opportunities to share local conservation ideas, learn about various fishing techniques and enjoy our outstanding cold water resources.   Below are just a couple of the various events that CVTU hosts each year:
Throughout the year we offer several different meetings held via Zoom or in person at Camp Ticonderoga in Troy, MI.  These meetings are a place to learn more about the progress our chapter is making within the local watershed.  We also host a variety of special presentations from well-known speakers which range from conservation projects to fishing techniques.
Each month the CVTU Board of Director's holds a meeting to discuss important chapter activities.  These meetings are open for our general membership to attend, however, due to reservation limitations please contact a chapter representative prior to attending.
Monthly Fishing Outings
Check our calendar for scheduled local fishing outings.
Join the chapter for our annual fishing outing on the Au Sable River.  With up to 28 chapter members, this is a great weekend to fish and build some great memories.
Other Events
In the coming year, the CVTU Events Committee will announce several new events for our members to participate in.  Some of the upcoming possibilities include several chapter sponsored cookouts, a fall fishing outing and a fall woman's event outing in 2021 is in the works.  If you have ideas for potential chapter events please contact the CVTU Events Committee to discuss your involvement in planning an event.