February 2014 General Membership Meeting
On Tuesday, February 11th the Clinton Valley chapter invites all chapter members and Southeast Michigan anglers to join us at Camp Ticonderoga for our February General Membership Meeting.  As always, the meeting will begin at 7:00PM and the Camp Ticonderoga staff will be available to keep your drinks full while chapter members share their dreams of the upcoming trout season.
The chapter is pleased to announce that two of Michigan's top steelhead guides, Jon Ray and Kevin Feenstra, will be presenting on various techniques to help you become more effective in your pursuit of spring steelhead.
Captian Jon Ray has been fly fishing for the past 23 years and has guided fly anglers in Michigan with Hawkins Outfitters for the past 12 years.   Jon's first love is chasing trout, steelhead, smallmouth bass and musky with streamers.  The Upper & Lower Manistee, Bestie & the many miles of shoreline along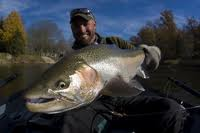 Grand Traverse Bay are among his favorite hunts.  Jon's love for photography can be viewed at Mangled Fly and he co-authored the DVD "Big Appetite Smallmouth".  So bring your wallet to get your copy of this amazing DVD.
Kevin Feenstra was born and raised in West Michigan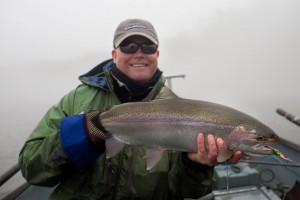 where he as spent his whole life fishing various streams.  He regularly contributes articles to magazines such as Midwest Flyfishing and his flies have been published in many books, magazines and fly tying manuals.  Kevin is a member of the national pro staff of the Scott Fly Rod Company, Ross Reels and Daiichi Hooks.
This looks to be one of the best presentations of 2014!  So bring a friend and come out to enjoy a great night with the chapter.
* As a reminder… early bird pricing for Clinton Valley's Annual Banquet for Conservation tickets ends on Friday, February 15th.  Get your $35 banquet ticket during the February General Membership Meeting from CVTU Fundrasing Chairman, Alan Johnston.