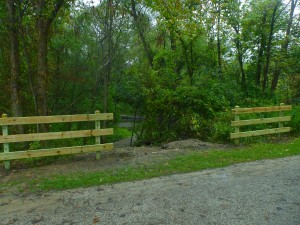 In September 2011 the four Southeast Michigan Trout Unlimited chapters (Clinton Valley, Vanguard, Challenge, and Paul H. Young) joined together for the 3rd Annual SEMI TU Picnic.  Prior to the picnic members from each chapter took part in a three hour work project at the Silver Bell Road crossing on Paint Creek.
The Silver Bell site is one that the Clinton Valley chapter has had on it's radar for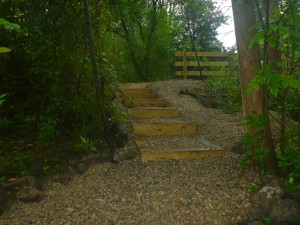 quite some time.  Due to the steep slope of Silver Bell Road west of Paint Creek, a large erosion scar has formed that is quickly allowing excessive sediment to enter the creek.  It has been the chapter's goal to repair this erosion scar and to prevent any further sedimentation in this section of Paint Creek.  While efforts are still ongoing to repair the erosion scar the four local chapters established a new angler access downstream from the scar in hopes of giving anglers a stream-friendly access site to the creek.
The work project took roughly three hours to complete thanks to the help of over 25 volunteers from the four chapters.  As the picture shows, anglers now have a great streamside access that will help to prevent any further erosion at the erosion scar from excessive angler foot traffic.