For over 30 years the Clinton Valley Chapter of Trout Unlimited has hosted a weekend at the historic Wa Wa Sum Lodge on the banks of the Main Stream of the Au Sable's fabled "Holy Water" just east of Grayling.  This is the chapter's most prized event as it gives our members an opportunity to come together, enjoy the water that TU was founded on and create memories that will last a lifetime.  We truly cherish this event every year!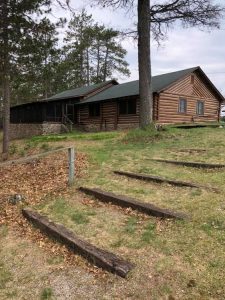 The 2023 Wa Wa Sum outing with be Thursday, May 18th through Sunday, May 21st.  Registered attendees will stay at the lodge with direct access to fish the Au Sable river system.  While this outing is one of our engagement highlights of the year there are a few things to take into consideration:
Wa Wa Sum is a rustic lodge.  Each room has multiple beds and attendees will be "bunking" with other chapter members.  
It is encouraged that attendees bring both a pillow and sleeping bag to lay out on their bed.  Linens are not provided.
The lodge has two full bathrooms that attendees with share.  Wa Wa Sum does not provide soap, shampoo or towels.  Do not forget to pack them!
This year Clinton Valley will not be providing meals.  Attendees are encouraged to group together and get dinner at one of the various restaurants in Grayling.
Reservations will begin Friday, April 7th and will remain open until all 26 beds in the lodge are full.  We will have two options for attendees this year; stay the full weekend (3 nights) for $165 or stay only two nights for $110.  This registration fee includes your lodge stay, breakfast on Saturday or Sunday morning and entry into the raffle for a TFO 9ft 6wt fly rod.  The rod drawing will take place Friday, May 20th so that the winner can fish their new rod for the weekend.
To register for this event click on the Register Now link below. Once you have registered for the event you will receive an email to secure your spot with payment. The chapter will hold your registration for 48 hours without payment. If payment is not submitted your registration will be cancelled.
IF YOU WOULD LIKE TO ATTEND THE WA WA SUM OUTING AND HAVE NOT RECEIVED A REGISTRATION EMAIL BY SATURDAY, APRIL 8th  PLEASE EMAIL THE CHAPTER AT [email protected].  THIS EVENT WILL SELL OUT FAST!  DON'T HESITATE ON REGISTERING!
Wa Wa Sum is a Michigan State University research and conference facility located on the Au Sable River six miles east of Grayling.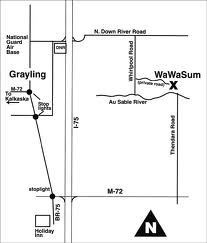 The name Wa Wa Sum means "Plain View" in the Ojibwa language and was given to the camp in 1905 by Chief David Shoppenagon, an Au Sable guide and woodsman. At that time, because of the extensive logging of the region's pine forests, the view from the high bank on which the camp is built was unobstructed for miles to the south. Since then, the forests have regenerated, slowly obscuring the view beyond the river.  Chief Shoppenagon built the first building at the camp, now known as the Dining Room, in 1880. In 1897, Rubin Babbit, an Au Sable woodsman who later became Michigan's first wildlife officer, built a second structure, now the Administration Building. These first buildings were constructed of red pine and tamarack logs and used as a fishing camp for a group of Toledo businessmen. Other cabins of various sizes were added in later years: the Bullpen (1907); the Big Camp (1921/22); the Barn and the Guide's Cabin (early 1930s).
 The buildings and 251 acres of land were deeded to MSU in 1980 by owners Virginia Secor Stranahan and Frank Bell, descendants of two of the camp's six original owners. Kevin Gardiner, a descendant of Rubin Babbit, is the camp's present caretaker. He is the third generation of his family to perform these duties.